Bioquell Sequre
A NEW NAME FOR OUR FIXED-SYSTEM
BIO-DECONTAMINATION SOLUTION
Mon. 2017/6/19
BEHIND THE NEW NAME
As a world leader in decontamination and infection control solutions, we know the importance of providing reliable and consistent bio-decontamination systems and services. We also know that what is in a name matters. That's why we're reintroducing the Bioquell FS-1 as the Bioquell Sequre. It's the same, innovative system that provides tremendous value to our customers, but with a new name backed by our renewed commitment to delivering safe and worry-free environments.
Like the Qube, the Bioquell Sequre name draws inspiration from its product design, in this instance, as a secure, slim, wall-mounted presence in the workspace. The renamed Bioquell Sequre also directly positions itself as a part of a protected, sterile workplace. Additionally, the new name alludes to an optimized workflow processes and guarantees regulatory compliance, providing our customers peace of mind so they can focus on what truly matters – their work.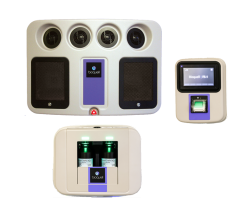 KEY TALKING POINTS AND APPLICATIONS
• The slim design and digital user-friendly interface make the Bioquell Sequre ideal for pass-throughs and small rooms. Likewise, its automatic cycle prediction technology helps insure fast validation
• The Bioquell Sequre reduces repeated costs of "spray and wipe" methods, minimizing manual labor hours and
disinfectant consumable purchases while consistently providing optimal efficacy
• The Bioquell Sequre employs unique automatic cycle prediction technology that ensures quick validation
after installation, with the entire installation process taking less than one week.